At the On-Site print lab, the experienced printing director will produce prints based on your aesthetic and intention of the art according to your request. She makes engaging and high-quality prints with skills acquired through creative activities in New York and Japan. She will offer consultation on paper selection, listen to your story of the work and your plan for display, frame, and, etc., and print carefully through retouching such as color adjustment to more enhance your intent.
Here we offer the services below:
Printing with a large format inkjet printer (printable up to 1118mm/ 44" wide)
Digital retouching + Printing (Custom printing)
Scanning films (negative, transparency), drawing, painting, and Photographing artworks
Giclee printing; printing scan images of artworks and digitally created images

Feel free to contact us for your projects; making exhibition prints, portfolios, book projects, family albums; scanning films and old photo prints. We are also available to offer consultation for mounting and framing your prints.


Printing services
We offer 3 types of Printing services below:
"Printing without retouching": your image will be printed without retouching.
"Retouch + Printing": the printing director will make adjustments on your images according to your request, and/or match the color to a target/original work. We may make suggestions on adjustments to make the print look better.
"On-the-spot Retouching + Printing": you will look at the image of your artwork on the computer display together with the printing director, and request adjustments and get your image(s) retouched right away. After proofs are printed, the final print will be made, then you can take them home. (Please note: it may take hours to finish retouching and printing, depending on the work. )
• note: Please export your Ai (Illustrator format) file to TIFF format before bringing it in. We print with Photoshop.
Scanning
Why don't you scan/digitize and save your favorite old photo prints, negatives, or pictures you or your child drew/painted? Damaged photo prints could be digitally fixed, and old photos could be reprinted larger in brilliant color.

We scan films with a high resolution film scanner Hasselblad Flextight 5, and use a flatbed scanners for scanning photo prints, and artworks up to A2 size (420 x 594mm).
To digitize artworks larger than A2 size we photograph with DSRL camera and retouch the files.


If you are looking to scan a large number of negatives/transparencies, photo prints, or photographing artworks to be your archives, please don't hesitate to contact us.
Giclee printing
We offer Giclee printing service, making a inkjet print of scan images or digital files of your artworks on fine art paper.


To make a reproduction print of a painting from a scan, as the printed result (tonality and atmosphere) will change depending on the paper, you first choose a type of paper or canvas to print. Then we make test prints with your image on the paper, and make adjustments to match colors, and create a final print.


Please contact us for the questions you have regarding our Giclee printing service.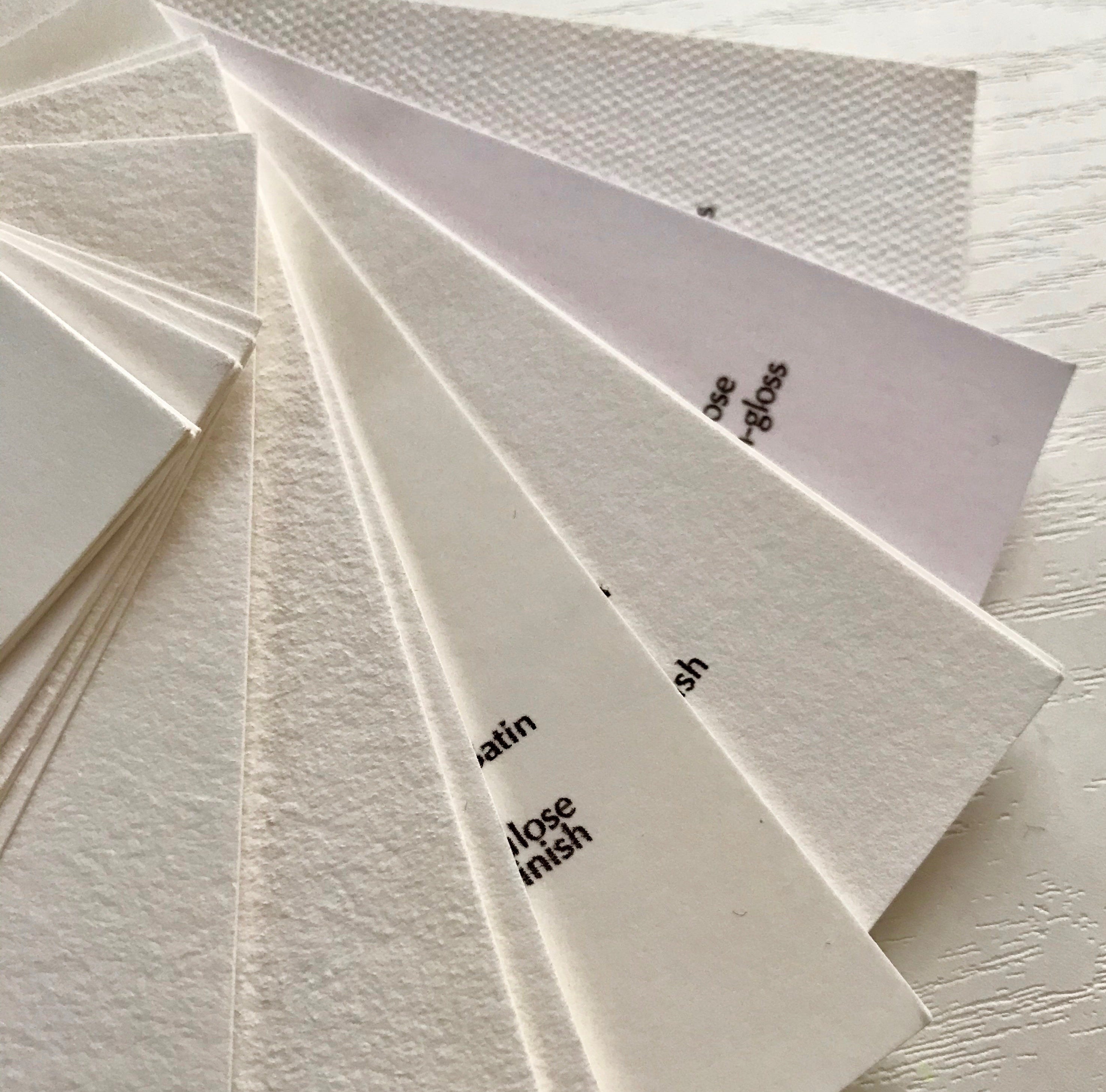 Paper
High-quality inkjet paper has rich tonality that enables to reproduce both soft and brilliant color and smooth gradient of photographic and digitally produced works. Fine art inkjet paper that has been developed to exceed museum grade standard meets galleries and museums' longevity requirements.
We select the paper for our printing that is both reliable material and a beautiful object. At On-Site print lab imported fine art paper, photo paper, Japanese washi paper, and flameproof cloth are available to print. Each paper has a different texture and feel, and we will help you find one that goes well with your image.

If you are looking for a good paper to print your work on, please visit us at the lab; you can take a look at paper samples, and we offer a consultation on your selection of paper to print.


Please also feel free to contact us, if you are looking to bring in your own paper and have questions regarding that. (Note: The paper you bring in must be one produced by a manufacturer, not hand-made paper by you. Printers easily get clogged when printing on rough handmade paper.)
【 list of manufacturers and kinds of paper we carry 】


Hahnemuhle Fine Art: has museum grade standard, and meets galleries and museums' longevity requirements. Fiber-based fine art paper. Made in Germany.
[ Photo Rag Baryta 315g/㎡, Photo Rag 308g/㎡, Photo Rag Satin 315g/㎡, Photo Rag Pearl 320g/㎡, Cezanne Canvas Matte 430g/㎡… ]


Canton Infinity: has museum grade standard, and meets galleries and museums' longevity requirements. Fiber-based fine art paper. Made in France.
[ Platine Fibre Rag 310g/㎡, Baryta Photographique 310g/㎡, Edition Etching Rag 310g/㎡, Museum ProCanvas Luster 385g/㎡… ]


Awagami Factory: carefully made with Japanese natural plants, such as Kozo and Mitsumata, in Tokushima Prefecture in Shikoku. Archival quality, durable paper. Produces deep and soft image quality.
[ Kozo (Thick, White) 110g/㎡ (Thickness: 0.23mm), Bamboo 250g/㎡ (thickness: 0.5mm)… ]


SIHL Masterclass: we carry two types of paper from SIHL; silky finish that can be printed on both sides, and glossy finish that has elegant pearl color. Made in Switzerland.
[ Luster Photo Paper DUO 325g/㎡ (for double-sided printing) , Metallic Pearl High Gloss Photo Paper 290g/㎡ ]
Epson: thick photo paper from the Japanese well-known printer manufacturer. Produces well-balanced image quality.
[ Professional Photo Paper; Glossy 260g/㎡, Semi-gloss 250g/㎡ ]
Flameproof cloth: made with polyester fabric. Soft and easy to handle (thickness: 0.2mm). Produces soft and light image quality.
Printer
With our large format printer, Epson Sure Color P-9050G (or called P9000 Standard Edition outside Japan), we produce high quality inkjet prints, such as photographic works, reproductions of paintings, and digitally drawn artworks. The printer is equipped with 10 brilliant and archival pigment inks, and can produce rich tonality and smooth gradation. It is printable up to 1118mm/44"-wide roll and sheet paper.
Mounting and Framing
A good framing enhances the presence of the artwork and protects it forever.
From ready-made frames to custom framing, we offer a consultation and discuss with you the types of framing and materials good for your artwork, exhibition plan, and budget. Please feel free to contact us.
Canvas printing + stretching on stretcher bars or wood panel
Printing Director
Satomi Shirai
photographer, artist, digital printing director, and adjunct lecturer at Nagaoka Institute of Design


Shirai liked printing and working in the darkroom, but after moving to New York, she got more interested in digital printing, which allowed more choices, controls, and various ways of expression than darkroom printing. She has acquired techniques to make engaging prints, and closely worked with many artists for their exhibitions and projects. Shirai makes large format photo prints to be artworks for her own exhibitions as well.

Shirai graduated from the Department of Visual Communication Design at Musashino Art University in Tokyo. She was based in New York for 12 years until 2015, and granted a fellowship, Overseas Study Program for Artists, by Japanese Government Agency for Cultural Affairs in 2006. She completed the Full-time Certificate Program at the International Center of Photography in 2007, and received her Master of Fine Arts degree from a graduate school at the City University of New York Hunter College in 2010. Afterward, Shirai worked at ICP and made photo prints for exhibitions at the ICP Museum. After moving back to Japan, she has joined Aflo Atelier as a printing director, and makes prints for artists and photographers.

www.satomishirai.com
On-Site Print lab
access
from Narita Airport either Terminal 1,2 and 3(Domestic):
Take a local JR (Japan Railway) train, not a JR Narita Express or Keisei train, to JR Narita Station. At JR Narita Station, transfer to JR Joban-Narita Line (the green line #22 on the route map) for Abiko, and get off at JR Higashi-Abiko Station (8th stop from JR Narita Station, one-stop before Abiko Station).
8 minute walk from JR Higashi-Akiko Station to on-site.

from JR Ueno Station in Tokyo:
Take a train on JR Joban Line from JR Ueno Station to Tennodai Station. (8th stop from Ueno Station with 37-minute ride)
10 minute walk from JR Tennodai Station to on-site.

Train route map
Japan Transit Planner
Content from Google Maps can't be displayed due to your current cookie settings. To show this content, please click "Consent & Show" to confirm that necessary data will be transferred to Google Maps to enable this service. Further information can be found in our Privacy Policy. Changed your mind? You can revoke your consent at any time via your cookie settings.
Consent & Show
contact
Please feel free to contact us for getting a quote for your printing project!

Payment can be made by PayPal, bank transfer, or cash.


for inquiry about Artist-In-Residence
[email protected]

for printing and other
[email protected]

Or, please send us the contact form below:



address
on-site
2-32-14 Higashiabiko
Abiko-shi, Chiba 270-1144
Japan
phone: +81-(0)471-61-9543
mobile: 050-5585-8044



office hours
open : Tue, Wed, Fri : 10:00am - 6:00pm
Sat : 11:00am - 5:00pm
* Please make an appointment for your visit.

closed : Tue・Thur・Sun
Holidays
*We check e-mails every day.